Buyer's Guide: Roof Replacement
December 15, 2021
|
By Stoneworth
The roof of your home should always be a "top" priority, and the reasons why this is crucial are obvious. The roof prevents the weather from coming into your living space. Through preventative maintenance and immediate addressing of visible damage, a well-installed quality tile roof in the Kansas City Metro Area and Midwest can often last for fifty years or longer. If you currently have a shingle roof that is more than twenty years old or your roof shows visible signs of damage, it may be time to re roof with tile.
A Safe Roof Depends on Quality Materials and Quality Information.
Replacement is a costly proposition, and while it may be tempting to try and take the project on yourself, this is one area where DIY is probably not the best choice. Professional roofers have experience and skills that cannot be demonstrated or passed on via a YouTube video, and any attempt to replace a roof with concrete, or clay roof tiles without the assistance of a Kansas City roofing professional may end up being costly in ways beyond mere finances.
Knowing your limitations does not mean that you shouldn't apprise yourself of the basics of how to roof a house step by step. Learning about the roof installation process will help you to choose a qualified contractor and oversee the process to ensure basic safety measures are not ignored.
How To Roof a House Step by Step
Make sure you check the weather to plan out the project – roofing in rain can be dangerous and can compromise both the labor and materials that are being installed.

Select and obtain your materials

well beforehand.

Remove the old roofing and clean the entire roof bed of any remaining nails, shards of broken pieces of tiles, and any other debris that remains.

Install the underlayment – the material beneath the tiles you plan to install is a key factor in ensuring that the new roof will be appropriately waterproofed and have a long lifespan. Since tiles are not waterproof, they underlay the barrier between the shingles and your property. A three-ply underlay is the best way to ensure that you are installing adequate protection. The most currently available layers are peel and stick, but they still require the experience of an expert to be installed properly. Wrinkles or inadequate adherence at the edges means that precipitation will find a way into your home.

Install drip edge – this is the element that protects your tiles from moisture, hardens the roof, provides protection of air masses, and aids in the discharge of wastewater streams. The top drip edges available are composed of galvanized steel and are often coated with anti-corrosion material that increases durability and longevity. Some in the industry question if a drip edge is necessary for every roof, but it is

absolutely required when installing a tile roof.

Install all other roof coverings, which include the ridge cap, flashing (including around the chimney), and ridge vents.

Clean up debris – any remaining detritus from the new materials or the old roof should be removed from the area and discarded per local ordinance. Construction materials may or may not be picked up by your local waste pickup service, so it's a good idea to check or to ask your contractor if their quote includes debris removal.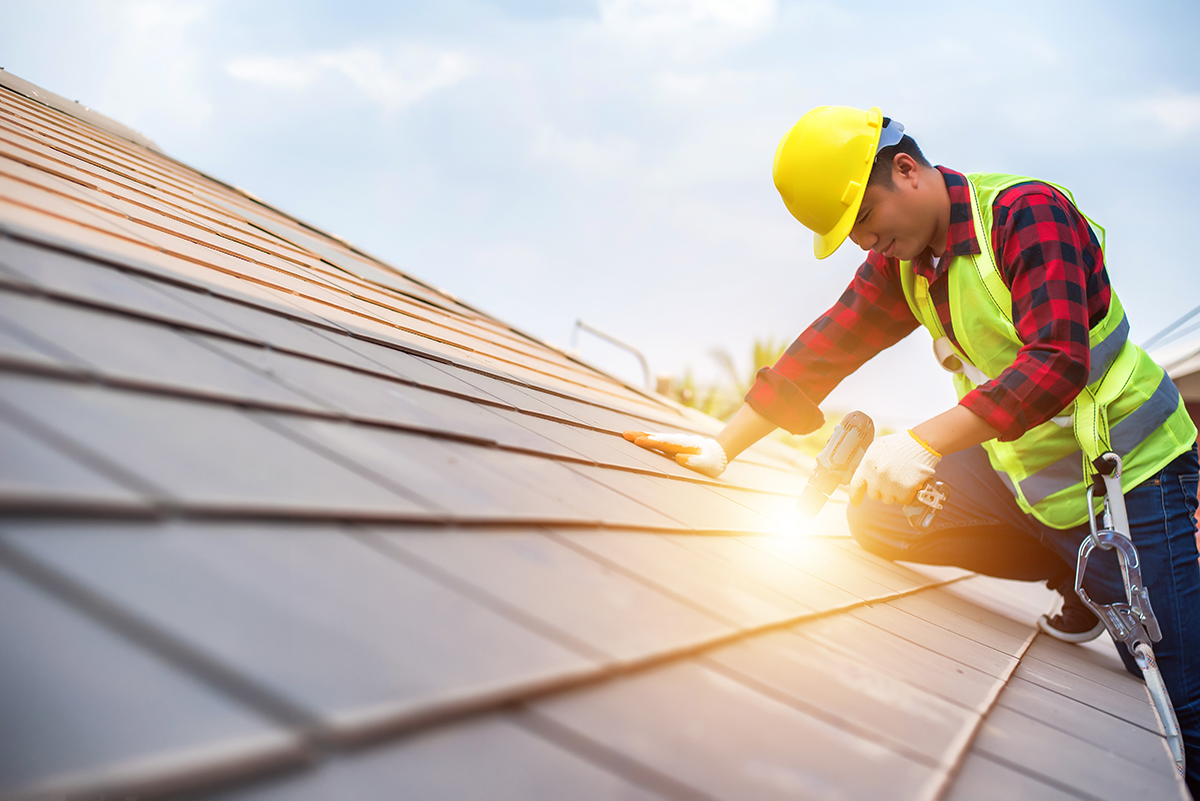 Reroof With Quality Roof Tile From Stoneworth
In the Midwest, especially in Kansas City, the roof installation process is a specific standard process to best ensure longevity, durability, safety, and attractiveness. If you have questions about which tiles will work or look best on your next building project, contact Stoneworth today for tips from our experienced craftsmen.